I said I would blog about this as I have had to do it several times when restoring an SBS 2003 or Server 2003 backup from Acronis Server 11 / 11.5
Basically, in some sites I've restored a backup to a Hyper-V machine within Acronis and Windows 2003 would not progress any further than the Windows 2003 boot splash ( see below )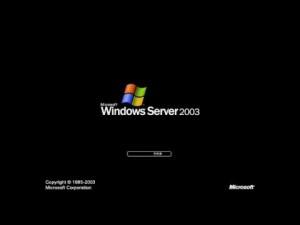 Please note that the progress bar would continue moving.
Host Machine:  Windows Server 2012 R2 running Hyper-V.B
Backup Machine:  HYPER-V VIRTUAL MACHINE ( NOT A P2V )
Rebooting and accessing Last Known Good Configuration yielded the same result.  Booting into Safe Mode was the same, the server progress past system32\acpitabl.dat
Solution?  Restore the backup to a VMWare Workstation VMDK and then convert the VMDK to VHD with Star Wind V2V Converter – direct download available at https://www.rgb.ie/starwind_v2v.exe
This above is pretty straight forward, just point and click and ensure you have enough free space for the new VHD file.
Once converted, setup a New Virtual Machine and insert the VHD – Server 2003 should boot.
I will get into the exact science of why the above works at a later date!