Microsoft 365 features
Microsoft 365 is a cloud-based solution from Microsoft that makes remote working effective and secure. The apps bring together every aspect of remote working, from teamwork and communication to file storage and sharing, email and calendaring, security and compliance. Also included are tools to build and manage your business, including desktop, laptop and mobile device management (MDM).
You may already have Microsoft 365 licenses, and your teams may already be working remotely, but are you getting the most from your investment? Are you truly aware of the capabilities and features within those Microsoft 365 licenses?
Let's take a closer look at the tools that make remote teams effective to find out if you're getting the most from your investment.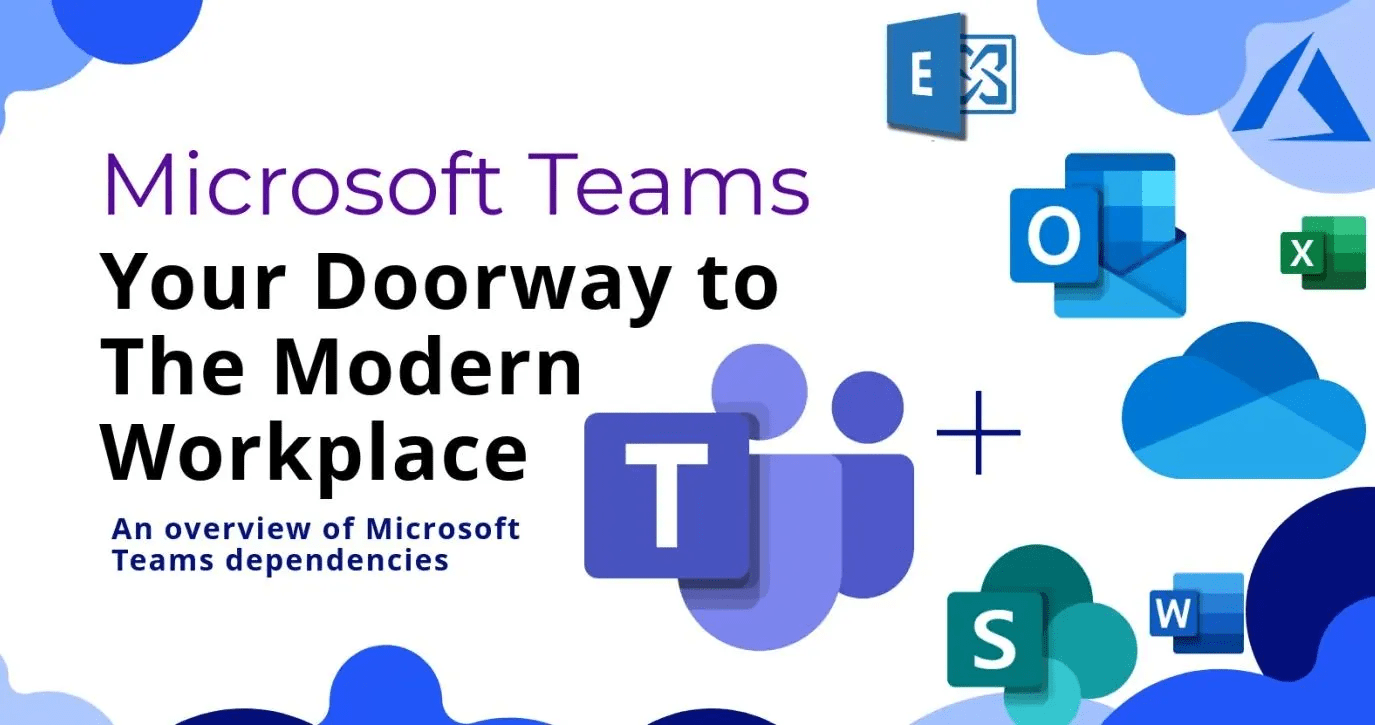 Microsoft Teams
Microsoft Teams is the communication and collaboration hub within Microsoft 365. It can be used to host online meetings and video calls for up to 250 people and has an instant chat function for immediate responses and quick questions that don't need an email. Staff can create different teams for different projects or departments, and use these teams for chats and meetings, or to share files and collaborate without ever leaving the Microsoft Teams app.  Microsoft Teams can be used on desktops, laptops and mobile devices, so employees can always stay connected, even if they're on the move.
You probably know all that by now, but have you explored the wider features of Microsoft Teams? Did you know that Microsoft Teams links directly to SharePoint document libraries or that you can add Microsoft's employee engagement platform, Viva, to the Microsoft Teams dashboard? Are you aware that Microsoft Teams Calling has the capability to provide your employees with business telephony features, wherever they are?
By integrating the solutions and technologies, Microsoft have provided a single place for your teams to work from. The question is, are you making the most of these integrations? And if you're not, what's stopping you?
GET STARTED WITH VIVA
Web and mobile Office apps
Microsoft 365 includes cloud-based versions of Word, Excel, PowerPoint and OneNote, so your teams can access them securely from any location and have global access to the files they need. Because these are cloud-based, you don't have to be in the office or using a specific device to access them. Each app is always running the most up-to-date version, on up to five mobile devices and five tablets. Multiple users can co-author documents and work on the same files simultaneously, so you avoid issues with version control and can make changes in real-time.
However, did you know documents can be opened and edited from within Teams? Or that document libraries can be synced to OneDrive to provide users with the option to work on a browser, through Teams, or through the application, even if they are on the move.
Email and calendaring
Even though Teams is the quickest way to stay connected with colleagues, email isn't obsolete just yet. Microsoft 365 includes email hosting through Exchange Online. Using the included Outlook application, users can manage their calendar and schedule, send and respond to meeting invites and get reminders for appointments and meetings, all within the application. New user accounts can be created, deleted accounts can be restored and custom scripts can be created from anywhere, so new joiners can quickly be setup with email, despite not being in the office.
Again, the integration from Outlook into other Microsoft 365 apps provides users with convenient options. Through the calendar function within Teams, users can schedule Teams meetings and even consult the Scheduling Assistant to make sure the other parties will be available. Additionally, using Task Lists within Teams provides project members with email updates whenever a task is updated, or a comment is made. So, whatever application a particular employee prefers to work from, the integration has them covered.
File storage
Secure and effective file storage is one of the most important aspects of remote working. OneDrive is Microsoft's cloud-based storage that provides a secure space (Enterprise tenants get 1 TB plus 10 GB for each licensee) for saving, sharing and working on files. Users can work on a file and save it directly to their own personal OneDrive, a shared OneDrive or SharePoint, with changes being synced across devices. Authorised users can access shared files within OneDrive or SharePoint which removes the need to send documents via email and means only those people with the right permissions can access information.

Security and compliance
Security is a top priority for any organisation at any time, let alone when the majority if not all employees are required to work from home – and could be using their own devices to work.
The security and privacy controls built into Microsoft 365 meet key international, regional and industry standards. For example, to protect email from spam and malware, Exchange comes with Exchange Online Protection. Security groups and custom permissions can also be created so you can control who can access your information and when.
Access and identity management tools like multifactor authentication, which requires a user to enter an additional piece of information as well as their password, like a pin code or face identification, means only authorised users can login; and these examples are only scratching the surface.
We find many businesses overlook the inbuilt security and compliance features of Microsoft 365 and are surprised to learn how many features are included, but not used. Additionally, many businesses even pay for third-party solutions to tackle challenges that Microsoft 365 tools can solve.
How much do you really know about the security and compliance features that are included with Microsoft 365? Are you getting the most from your investments, or are you paying for a plethora of tools that overlap with Microsoft 365 features? If you don't know the answers to these questions, or any we have asked in this article, then Really Good Business' complimentary Technology Roadmap Assessment might be just what your business needs.

Technology Roadmap Assessment
Wherever you are on your Microsoft journey, Really Good Business can help you get maximum value from the solutions you use, and the solutions you don't use – yet. Our Technology Roadmap Assessment is a complimentary workshop designed to explore the challenges your business is facing, map Microsoft technologies to those challenges, and unlock the features of Microsoft 365 that you aren't utilising.
Our customers have testified that we know how to ask the questions that our competitors don't think to ask, to challenge their processes and make improvements they didn't even know were possible with their existing licenses. If this article has highlighted gaps in your Microsoft 365 knowledge, call us today on +35316877185  to arrange a consultation.