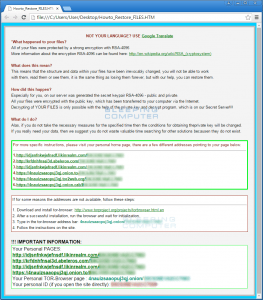 There is a new version of Teslacrypt doing the rounds – a variant of Ransomware.
This release calls itself version 3.0 and uses a different encryption key exchange algorithm. Furthermore, all encrypted files will now have the new .XXX, .TTT, .MICRO extensions appended to them.
The major and most problematic change, though, is key exchange being modified. In the past there were ways to recover the private key from an encrypted file.  Now with this modification, this is longer possible for new victims.
If installed, Teslacrypt 3.0 will encrypt all documents on the computer and ask you to pay a fee to unlock them again.
The fee ranges from $500 to $2000 with no guarantee of the files being decrypted.
Distribution is mainly through email but it can also be downloaded from various websites.
Please be extra careful when opening email attachments – especially from unknown users.
Please feel free to leave a comment below if you have any additional queries on this piece of ransomware.